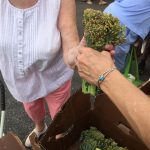 Heart for Humanity/Blessings is a Non Profit Community Outreach of Victory Christian Fellowship that distributes food to those in need (economically disadvantaged). Established in 1993 Heart for Humanity/Blessings services local communities in Delaware reaching approximately 1,500 individuals monthly with free material assistance. An additional 1000 persons receive assistance during special events such as Thanksgiving and Christmas.
Click here to donate to Heart for Humanity/Blessings
Open to the public every Saturday from 8:00 am to 12:00 pm
Senior Saturday – Every 2nd Sat. 12 noon to 2:00 pm (temporarily on hold)
Veterans Saturday – Every 3rd Sat. 12 noon to 2:00 pm (temporarily on hold)
In addition to our weekly distribution, the Outreach Program assists the homeless, families and individuals in crisis and in transition, and has specifically designed programs for Senior Citizens, Veterans, and those seeking employment. We also act as a referral resource for numerous local agencies and organizations, including the Delaware Helpline.
42,000-50,000 people a year are blessed by this ministry.
Our Return to Work Program assists individuals actively seeking employment with job leads, clothing and food. Our Senior Citizens Program assists individuals who are 62 years and older with food and clothing assistance. On the first Saturday of the month, we provide seniors with lunch and a month's supply of groceries.
Our Veterans Program serves Veterans and their families on the third Saturday of each month, including working with the Veterans Administration to support and educate Veterans on government benefits and opportunities.
Heart for Humanity/Blessings is staffed entirely by volunteers, and operates through donations from the business community, individual sponsors, and the congregation of Victory Christian Fellowship. All donations, proceeds and products are used exclusively for the assistance provided by Heart for Humanity/Blessings Outreach Program.
If you desire to donate to Heart for Humanity/Blessings, the following non perishable food items are suggested:
– Grains: cereals, bread, pancake mix, lentils, beans, and rice
– Pasta: (all varieties), including macaroni and cheese
– Canned or jar products: soups, vegetables, fruits, and tuna fish
– Bread ( all kinds and varieties)
Volunteers Needed In All Areas: 
– Warehouse Setup
– Food Distribution
– Prayer Ministry
– Love In A Can
– Special Needs and Special Events 
Our feeding program is in operation all year round. If unable to donate the above food items, please donate gift-in-kind, or gift cards or a check made payable to Victory Christian Fellowship, to help with the purchase of the above items. Click here to donate online.
Thank you for giving and sharing towards the care of the community, particularly in the assistance to individuals and families in need.
For information contact: info@victoryexperience.com or call (302) 324-5400