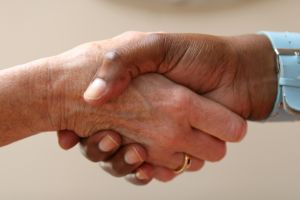 Ushers and Greeters ministry is a ministry of "Helps, (I Cor. 12:28)"  and is an extension of the pastoral staff, representing the love of the Lord Jesus Christ and Victory Christian Fellowship.  They are individuals who will be sensitive to the Spirit of God, speak the same thing, and who walk in unity and love toward one another and toward the Body of Christ.
The Greeters generally meet those attending church services at the door with a smile, briefly speak words that build and encourage and provide church bulletins.
The Ushers receive the people from the greeters, help them get seated, assist pastoral staff with maintaining safety of the people, order in the service, participate in altar ministry, and receive the offering.
Greeters and Ushers are trained to provide information on the church ministries, provide direction to proper areas in the facility, and direct people to the appropriate staff or lead volunteer for further assistance.  They are there to serve the pastoral staff and the people of God with any emergency situations that may arise in service.
For information contact: info@victoryexperience.com or call (302) 324-5400